Shopping Cart
Your Cart is Empty
Thank you for your business!
You should be receiving an order confirmation from Paypal shortly.
Exit Shopping Cart
Rocco's Pizza is a family-owned Italian restaurant based in Ozark, Missouri. We offer an extensive menu filled with authentic Italian dishes made with Sicilian recipes.
Every dish we make incorporates the finest and freshest ingredients as well as pizza doughs and sauces made from scratch.
We also offer a full expresso bar for all the coffee enthusiasts! All of our coffee beans are locally roasted with the finest beans to provide the richest crema and flavors possible.
Mission and Vision Statement
Our Vision is to provide the best Italian restaurant experience. Being the best means providing outstanding quality, service, cleaniness, and value so that our customers leave satisfied and with a smile!
Our Mission is to create the best pizza, pasta, and coffee flavors in Southwest Missouri over and over again.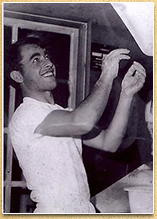 Rocco's Pizza is named after Rocco Palazzolo. Rocco is from a town in Sicily, Italy by the name of Cinisi. He immigrated to the United States in 1968 with money his father raised by selling a cow. Rocco landed in New Jersey and met a fellow countryman named Nicola. In 1969, Rocco and Nicola decided to open a pizza shop in Trenton, New Jersey selling Tomato Pies. With his first profits from the pizza shop, Rocco paid back his father for the cow. Rocco eventually bought out Nicola and opened a second shop. Both shops are still open to this day. Eventually, Rocco got homesick and decided to return to his family in Sicily until 1979. When he and his family returned to the United States, they settled in the Atlantic Coastal town of Hatteras, North Carolina. Rocco's children Sal, John and Erina started working at the shop when they were only five or six. Rocco's Pizza became a family business that would continue to pass down the Sicilian recipes from generation to generation.
Rocco's children learned the business from the ground up and were taught that quality and freshness were just as important as taste and appearance. Rocco's son, John, followed in the family business by opening his own pizza shop when he was 25 in Grandy, North Carolina. By this time Rocco was semi-retired and watching his children succeed. Over the next few years, the whole family, Rocco and his wife Theresa, John and his wife Vicey and their children (Theresa and Rocco) along with older brother Sal and his wife Melissa moved to the Ozarks. John talks about falling in love with the Ozarks beautiful natural landscapes, the kindness of the local folks and the great area to raise his children. So they decided to continue the family legacy by bringing their famous New York Style Pizza to the Ozarks. John purchased a building in Republic and spent five to six months renovating it to introduce the Ozarks to Rocco's Pizza!
Has authentic New York Style Pizza been a success in the Ozarks? You could say that. Rocco's Pizza has participated and won Peoples Choice as best pizza at the Greater Ozarks Literacy Council's annual Pizza Bowl two years in a row! Rocco's competes against many national and local pizza shops in the Pizza Bowl, all for a great cause. There is always a long line at the Rocco's Pizza table during this event. John started getting a lot of questions about franchising Rocco's. Finally, John gave in and Rocco's Pizza now has six locations in Southwest Missouri with more to come!
While John makes pizza and consults with current and future franchisees, Rocco works in his garden, travels back home to Sicily and even sneaks in and makes a pizza now and then and to yell at the dishwasher. Life is great at Rocco's Pizza and so is the food!
/